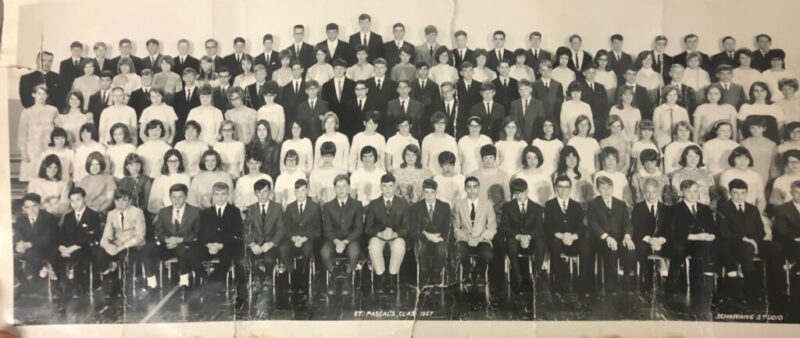 Serving Families Since 1950
St. Pascal Baylon Parish was established on May 28, 1946, by Archbishop John Murray, who assigned Fr. John Ryan as pastor. The original church consisted of two army surplus quonset huts. Groundbreaking was held for construction of a new church and school in October, 1949, and the school was officially opened on September 7, 1950, with nearly 200 students in attendance and Sr. Alice Gertrude Hassing, CSJ, at the helm as the first principal.
Associated with the rapidly growing parish came a burgeoning school enrollment. More classrooms were added to the south end of the school building, and a large, modern convent for the Sisters of St. Joseph of Carondelet was built in 1959.
The West Wing building extension was finished in 1963, and included several classrooms and what was designed to be a cafeteria in the basement. The decision was soon made, however, to use the basement space as a "temporary" worship space (where it remained until 2002), and the existing church was converted to the school gymnasium. The new West Wing classrooms were used for the upper grades and parish meeting rooms.
In 1974, St Pascal Baylon School decided to open a kindergarten, and two additional classrooms were completed in the West Wing. School enrollment at this time was approximately 600 students.
Planning began for an ambitious project to build the first new church in St. Paul in more than fifty years in 1998, and it was completed in 2002. In addition to the construction of a new worship space, commons area and offices, a major remodeling of the school took place that saw the conversion of the "temporary" worship space into two classrooms and a large activities area.
Declining enrollment sparked the decision to add a preschool and pre-kindergarten program, which were licensed by the state of Minnesota in 2015. 
In 2019 St. Pascal Baylon School became St. Pascal Regional Catholic School, a non-parochial regional archdiocesan school, leasing space in the old school's building. Enrollment that fall at the new school was just more than 150 students in preschool – 8th grade, many of them transferring from the old school.
We are grateful to the many students, families, teachers, principals, administrators, pastors, and benefactors who have gone before us, participating in the life of our school and its predecessor over these many decades on the East Side of St. Paul in our vision to share the love of Christ with those around us as we learn and grow spiritually, emotionally, and academically.
Following careful consideration and prayerful reflection in spring 2022, the leadership of St. Pascal Regional Catholic School decided to become part of Ascension Catholic Academy (ACA). The Academy was established in 2016 and oversees three Catholic grade schools: St. Peter Claver in St. Paul, St. John Paul II in northeast Minneapolis, and Ascension in north Minneapolis. ACA provides centralized leadership to effectively ensure excellence, accessibility, and sustainability for the schools. As of July 1, 2022, St. Pascal Regional Catholic School is officially a part of Ascension Catholic Academy.
St. Pascal Regional's decision to join the Academy is consistent with ACA's mission of recognizing the importance of access to a rigorous, faith-based education as well as the need to strengthen our collective spirit of hope here in the Twin Cities. This expansion also represents a sense of stewardship to share blessings and help build long-term viability, vitality, and sustainability. As with all ACA schools, St. Pascal Regional will continue to honor and develop its own identity and make unique contributions to St. Paul's East Side at its current location.